Symposium Home
Agenda
Abstracts and Bios
Photos
---

"Update on the Joint Environment – What's next for the enterprise?"
David A. Cotton

Deputy Chief Information Officer
Department of Defense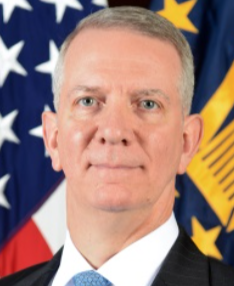 May 20, 2015 at 09:00
BIO
DAVID A. COTTON is a member of the Senior Executive Service and serves as the Deputy Chief Information Officer for Information Enterprise, responsible for integrating DoD policy and guidance to create information advantages for Department personnel, organizations, and DoD mission partners. In this role, Mr. Cotton's focus is to provide the leadership, strategy, and guidance to adopt a Joint Information Enterprise (JIE) based on a single, secure, reliable DoD-wide IT architecture, and key enabling enterprise capabilities.

Mr. Cotton served in the US Air Force for 29 years with successful senior management experience in Defense cyber, telecommunications, and information technology. In his final military assignment he served as the Air Force Chief Information Officer's Director of Cyberspace Operations, the Air Force IT Efficiencies Strategist collaborating with the Department of Defense CIO leadership on the precursor to the Joint Information Environment, the Air Force Senior Information Assurance Officer, and the Functional Manager for the Air Force's 44,000-person Cyberspace Operations & Communications Career Field. Four times he served as the CIO and Director of Command, Control, Communications, & Computers for a military headquarters: U.S. European Command in Stuttgart, Germany; U.S. Joint Forces Command in Norfolk, Virginia; U.S. Air Force Special Operations Command at Hurlburt Field, Florida; and Joint Task Force – Southwest Asia.

Immediately after retiring as a Brigadier General from the US Air Force in 2011, Mr. Cotton was appointed a Vice President at TASC, Inc., in Chantilly, Virginia, and lead for their Cyber Center of Excellence. He holds a Bachelor of Science in computer science from Iowa State University, Ames, Iowa; a Master of Arts in computer data and personnel management from Webster University, St Louis, Missouri; and a Master of Arts in strategic studies from the U.S. Air Force Air War College, Maxwell Air Force Base, Alabama. He is also a graduate of the Canadian Forces Command and Staff College, Toronto, Ontario; and has completed executive development courses at the US Federal Executive Institute, Charlottesville, Virginia; The Center for Creative Leadership, Greensboro, North Carolina; and The University of Virginia Darden School of Business Executive Education program, Charlottesville, Virginia.

---

"IT Acquisition and Plugfesting with
Other Transactional Authority (OTA)"

Dr. Tim Rudolph

FAF Life Cycle Management Center (AFLCMC),
Chief Technology Officer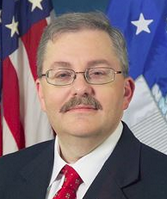 May 21, 2015 at 09:00
BIO
DR. TIM RUDOLPH is a member of the Senior Executive Service (SL). He is Air Force-wide Technical Advisor, Integrated Information Capabilities (IIC). He serves as the AF Life Cycle Management Center (AFLCMC), Chief Technology Officer, stationed at Hanscom Air Force Base. Dr. Rudolph works with senior technical representatives from the program executive offices across the Air Force enterprise. As part of the AFLCMC Engineering Directorate, he leads a number of departmental, multi-service, and multi-agency information technology initiatives. As an Air Force senior leader, he focuses on transition of Science and Technology from the Air Force Research Labs, other Military Departments and Federal agencies, and many technology providers. He is a vocal advocate of cloud technologies in most appropriate forms and productization of "after next" technologies understanding threats and vulnerabilities to assess balanced risk. Dr. Rudolph has been a leading advocate on efforts that promote and form "Private-Public Partnerships". The partnerships have fostered enhanced threat sharing information and have facilitated the leveraging of assets and resources from state, academic, DOD services and agencies for the collective benefit of the parties, dedicated war fighters and tax payers.
Dr. Rudolph has been appointed the Air Force Command and Control Authorizing Official. The AO responsibility supports proven agility and speed in moving capabilities to the warfighter. Dr. Rudolph has also been delegated Research, Development, Test and Evaluation DAA authority for PEO programs, projects and facilities, in particular, supporting early systems engineering, developmental planning and exercises/demonstrations of capability development and delivery, which foster greater ability to envision life-cycle considerations from cradle to grave. Dr. Rudolph is a strong supporter of small business and firms that lean forward and are dedicated to the development of innovative and synergistic solutions. He gained software and system development experience in multiple IT companies. In March 1994, he co-founded Paradigm Technologies, Inc., an industry partner focused on the application of technologies in creative ways for multiple agencies and commercial enterprises, which he managed with partners until divesting in 2007. He is a recognized pioneer in network-based services, open systems and open technology development, such as development on high-level architecture (HLA) and Posix standards, as well as modeling, simulation and analysis (MS&A) technologies, with extensive experience leading government and industry partners to advance technologies for enterprise solutions.
Dr. Rudolph has applied experience in multiple technical disciplines through all phases of the acquisition lifecycle, including requirements analysis, architecture, high-level design, development, integration, test, fielding, and support. He has held a number of positions supporting a range of Air Force, multi-service, joint, and cross-department federal activities. He is a certified system engineering Professional by the International Council on Systems Engineering and has authored articles on the subject.