Symposium Home
Agenda
Abstracts and Bios
---

Challenges of Innovation
Vint Cerf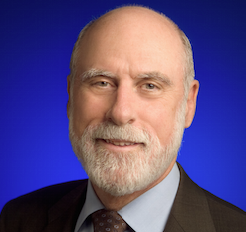 May 18, 2016 at 09:10
Abstract
The eminent "Father of the Internet" will get us started on the theme of Innovation in C4I, based on his deep experience in innovation and wide-ranging experience in C4I and related commercial technologies.
BIO
VINTON G. CERF is vice president and Chief Internet Evangelist for Google. He contributes to global policy development and continued spread of the Internet. Widely known as one of the "Fathers of the Internet," Cerf is the co-designer of the TCP/IP protocols and the architecture of the Internet. He has served in executive positions at MCI, the Corporation for National Research Initiatives and the Defense Advanced Research Projects Agency and on the faculty of Stanford University.

Vint Cerf served as chairman of the board of the Internet Corporation for Assigned Names and Numbers (ICANN) from 2000-2007 and has been a Visiting Scientist at the Jet Propulsion Laboratory since 1998. Cerf served as founding president of the Internet Society (ISOC) from 1992-1995. Cerf is a Fellow of the IEEE, ACM, and American Association for the Advancement of Science, the American Academy of Arts and Sciences, the International Engineering Consortium, the Computer History Museum, the British Computer Society, the Worshipful Company of Information Technologists and a member of the National Academy of Engineering. He currently serves as Past President of the Association for Computing Machinery, chairman of the American Registry for Internet Numbers (ARIN), chairman of StopBadWare and recently completed his term as Chairman of the Visiting Committee on Advanced Technology for the US National Institute of Standards and Technology. President Obama appointed him to the National Science Board in 2012.

Cerf is a recipient of numerous awards and commendations in connection with his work on the Internet, including the US Presidential Medal of Freedom, US National Medal of Technology, the Queen Elizabeth Prize for Engineering, the Prince of Asturias Award, the Tunisian National Medal of Science, the Japan Prize, the Charles Stark Draper award, the ACM Turing Award, Officer of the Legion d'Honneur and 21 honorary degrees. In December 1994, People magazine identified Cerf as one of that year's "25 Most Intriguing People."

His personal interests include fine wine, gourmet cooking and science fiction. Cerf and his wife, Sigrid, were married in 1966 and have two sons, David and Bennett.

– See more at: http://www.internethalloffame.org/inductees/vint-cerf#sthash.RzfBVFFU.dpuf

---
Impact of Failure to Innovate
Ben Gibson



May 18, 2016 at 13:00
Abstract
The impact of the failure to innovate for any business can be destructive to the culture (employees), customers, and the communities served. For large companies with access to capital and many assets, the drain on talent and erosion of culture may drag on for years, while for others; it is a quick and decisive end. This impact will be explored to some extent but it is reasonable to conclude that no company plans to fail and many that do fail actually invest in innovation. If innovation fails, then there is a failure to innovate and this requires further exploration. Therefore, it is assumed (in this discussion) those executives, investors, employees and other stakeholders ALL have the intent, talent and will to succeed and innovate. However, it is important to understand the contributing factors where in spite of intent, talent, and will, successful innovation becomes nearly impossible.
These factors will include:
Exploration of the company lifecycle and how logical incrementalism will change and transform a culture away from growth and innovation.
Insight into what innovation looks like at different phases of the company lifecycle and why if there is the wrong type of innovation at the wrong time, it will not succeed. (Companies think they are innovating but it is having no impact!)
Exploration of "Out of the Box" thinking. A term heard often, OOTB thinking is something which can be learned, understood, and implement effectively. (But may different than thought!)
These factors will be merged together in a way that may prevent the impact of failure all together. Instead, prompting some ideas for continuing growth or transforming to growth by driving success through effective innovation.

Bio
BEN GIBSON is a consultant and solution architect who leads significant business transformations with proven results driving growth in revenue, earnings and cash flow through broad experience in strategy, engineering, operations, marketing, and information technology. Ben has worked at GE Aerospace, Eastman Kodak, Logitech Audio, Blue Heron Consulting, and IBM. With over 25 years of experience delivering technology ranging from Digital Cameras and Audio products to enterprise SW, Ben is a technology agnostic problem solver and delivery executive focused on complex systems.
Some of his experiences include:
ERP and Customer Information Modernization projects in Mining, Energy and Utilities Industry as Strategic Advisor
Migration to DevOps and Cloud Managed Services in Travel and Transportation as Delivery Executive, IBM/li>
Logitech Squeezebox Network migration to Amazon Cloud as VP Product Marketing/li>
Led Historic restructuring of Kodak R&D transition to digital as CTO, Consumer Imaging/li>
Kodak PictureMaker Kiosk System and Network as Dir, SW Engineering/li>
AOL (You've Got Pictures) online storage and eCommerce systems as COO, PictureVision/li>
Kodak EasyShare Digital Cameras and Desktop Software as Director Engineering/li>
AEGIS Destroyer and Seawolf Submarine ASW Software (DoD) as Sr SW Engineer/li>
Ben also has a broad business strategy and P/L experience, leading operational Work-Out and Intellectual Property activities working with lawyers and financial analysts on legal and technical interpretation of patents and contracts. From an operational perspective, Ben has developed skills and experience in creating cash flows and improving operational earnings in very difficult business circumstances. His understanding of how to analyze a market and customer needs, contracts, and financial and technical operations as well as order to cash and cash management has extended the life of start-ups and established companies alike. If there is a market and a value proposition a robust cash flow can be created. He received a BS in Electrical Engineering from Syracuse University and is a Six Sigma Black Belt. His executive training includes personal interaction in seminars such as Disruptive Technology with Clayton Christensen and Mutual Gains Negotiations with William Ury.

---
Increasing Operational Effectiveness through Innovation
LTG Rhett A. Hernandez, US Army (retired)


May 19, 2016 at 09:00
Abstract
Since the beginning of time, man has developed capabilities to increase their ability to fight from a distance. Today, time and space have converged and global threats can impact our national security through cyberspace in milliseconds. Through innovation we must adjust the man-machine balance by investing in people and technology to increase operational effectiveness. Our national security demands more innovative approaches.
Bio
LTG RHETT HERNANDEZ retired following 39 years of distinguished service in the United States Army. He has led key organizational transformation initiatives for the Army during periods of significant crisis.
His last active duty assignment was as the first Commander of Army Cyber Command (ARCYBER), where he was responsible for the daily operations, defense and risk management of all Army networks with 1.2 million users, andwhen directed, conduct the full range of cyberspace operations. In addition to building a cyber force of more than 17,000 people, he led the development of a wide range of concepts, plans and programs to minimize cyber risk and ensure Army operations. As the Army's lead for all cyberspace activity, he was responsible for cyber doctrine, training, leader development, organization, materiel and people.He developed strategic direction, requirements and an acquisition approach for all cyberspace operations in the Army.
Previously he served as the Deputy Chief of Staff, Army Operations; Chief, U.S. Military Training Mission, Saudi Arabia; and Commanding General, Human Resources Command. In all three positions, he was involved in key issues and decisions at the highest levels. In his role as the Deputy Chief of Staff, Army Operations, he oversaw Army operations worldwide, directed Army transformation efforts, co-chaired the programming and budget board, chaired the Army network modernization board, approved and prioritized Army requirements. As the Chief, Military Training Mission, Saudi Arabia, he was the senior defense official to the U.S. Ambassador. He led the largest security assistance program in the world, oversaw the Foreign Military Sales program, strengthened the strategic military partnership and increased readiness and interoperability.
As the Commanding General of Human Resources Command, he directed the personnel management, from accession to retirement, for all soldiers and officers. He transformed personnel services and the management systems to support an Army at war.
Currently, he serves as the West Point Cyber Chair to the Army Cyber Institute, Director CyberSponse, Trustee On Point Technologies, President of CyberLens, LLC and is on a wide range of advisory boards. Rhett is a cyber expert on leadership, human capital, cyber threats, strategic planning and enterprise risk management. He is actively engaged in consulting, speaking and supporting start-ups to large organizations in the academic, government and industry sectors on key cyber topics.
Rhett holds a Bachelor of Science degree from the United States Military Academy, West Point, a Master of Science degree in Systems Engineering from the University of Virginia and a Masters of National Security Strategy from the National War College where he was named a distinguished graduate. He was an Assistant Professor for Probability and Statistics at the United States Military Academy and has published articles on leadership and cyber topics.
---
Bending the Cost Curve
Lt Gen Arnold W. Bunch, Jr


May 19, 2016 at 13:00
Abstract
Weapon system acquisition costs and schedules are trending exponentially, and unsustainably, up and to the right. The Assistant Secretary of the Air Force for Acquisition is committed to bend down that cost/schedule curve. However, we will measure our effectiveness in terms of a third variable, namely "warfighting value delivered."
Bio
Lt Gen ARNOLD W. BUNCH, JR is the Military Deputy, Office of the Assistant Secretary of the Air Force for Acquisition, the Pentagon, Washington, D.C. He is responsible for research and development, test, production, and modernization of Air Force programs worth more than $32 billion annually.
General Bunch was commissioned in 1984 as a graduate of the U.S. Air Force Academy. He completed undergraduate pilot training in 1985. He completed operational assignments as an instructor,evaluator and aircraft commander for B-52 Stratofortresses. Following graduation from the Air Force Test Pilot School, General Bunch conducted developmental testing in the B-2 Spirit and B-52 and served as an instructor in each. Additionally, he hascommanded at the squadron, group and wing levels. Prior to his current assignment, he was the Commander of the Air ForceTest Center, headquartered at Edwards Air Force Base, California.